Danmar 641 Bass Drum Anchor
If you're frustrated with your bass drum sliding and moving around while you play, then this product is exactly what you need.
Danmar's bass drum anchor serves the sole purpose of securing your bass drum's position on the floor.
This stability is achieved by mounting two heavy spikes in front of the bass drum, making it nearly impossible for the drum to dance away during intense playing sessions.
Because let's face it, there's nothing worse than the bass drum creeping forward as the music starts to play (well, maybe losing a drumstick, but that's the level of frustration we're at...).
But with a Danmar 641 Bass Drum Anchor on your bass drum, you can confidently dive into your drumming and leave all worries of a "wandering bass drum" behind.
Robust and reliable
The Danmar 641 Bass Drum Anchor is made of high-quality materials and built like a tank, as they say. This means the anchor can withstand the challenges that an especially older bass drum can throw at you, while its solid construction ensures long-lasting durability. Overall, this is a product you can rely on, proudly made in the U.S.A.
Easy installation
Setting up the bass drum anchor is easy.
Simply place the anchor in front of your bass drum, slide it over the bottom part of the bass drum hoop so that the spikes are facing forward, tighten the adjustment screws and adjust the spikes – and you're ready to go!
The anchor is designed to fit most bass drum sizes, making it a versatile choice.
So, stop letting your bass drum hold you back in your drumming journey – get a Danmar Bass Drum Anchor mounted on your bass drum.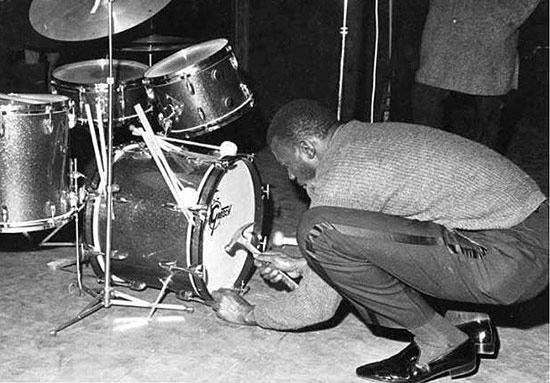 Legendary jazz drummer Elvin Jones nailing his bassdrum to the floor!