With T-Loks from Revolution you get an elegant and smart solution to an old issue; Drum screws that get loose.
How Does T-Loks Work?
You place T-Loks on the drum screw and when the drum is tuned, you screw the T-Lok in the opposite direction (up against the rim).
This way you avoid your drum screws getting loose when you play and when you need to tune your drums later, you loosen the T-Loks temporarily, tune the drum, and tighten the T-Loks again.
What Are They Made of?
T-Loks are made of chromed brass.
Can T-Loks Be USed With All Kinds of Rims?
T-Loks are made to be used with regular triple flange hoops and die cast hoops.
Which of the 3 Lengths Should I USe?
Here you need to take a look at the table below and then take your own drum/drum screws into consideration when assessing which length you have to use. The important thing is that your T-Lok needs to get a solid grip on the thread of the drum screw (see the picture).
TLM (mini) meassures 1/8" (3,18 mm.)
TL2 (medium) meassures 1/2" (12,70 mm.)
TL3 (large) meassures 3/4" (19,05 mm.)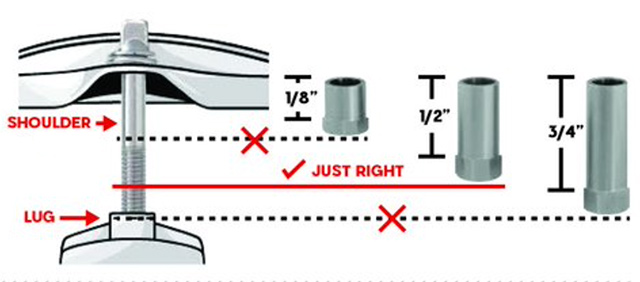 What Is In the Package?
You get 5 T-Loks and 5 neoprene rings in the package.
The neoprene rings should be placed between the T-Lok and the rim for the best effect.
Can I Use T-Loks on DW Drums?
T-Loks are available for both regular threads and DW's special thread.