Who Invented the Drum Set?
This is a question without a definitive answer. It was no single person who invented the drumset but rather a bunch of cultural coincidences in combination with practical and economic considerations.
But let us take a step back in order to better understand where the drum set has its origins.
Before the Drumset
Before the drum set appeared as an instrument in its own right, the spearate parts were played by individual musicians. Here, it is important to understand that they did not play rock or disco music. There styles simply did not exist at this time. Instead, they played military and parade music where one person played the bass drum, one person played the snare drum, and one person played the cymbals - just like we know from march bands.
If you look at the drum set, it is a concoction of instruments from the entire world. Bass drums and snare drums came from the military of European countries and later made it to the American military. Chinese immigrants brought colorfully decorated tom-toms to the USA. These were originally used for traditional Chinese theater. Cymbals evolved from small bronce castings made in Turkey and China. Later, these were hammered more flat and used for both classical music and in the military.
The Drum Set Is Born
In the early 20th century, New Orleans was a melting pot for all these cultures. It was a time where there was a growing demand for new sounds from percussionists, a time where there was not much room on the stage, and a time where money for musicians was tight. Therefore, bandleaders had to economize. Because of this, it made sense if you could get one person to play what earlier took four persons.
At the time, drums played a larger role in the soundtrack of theater shows. Not solely as a rhytmical foundation or an emphasis of this but also for sound effects, soundscapes, accenting jokes, and more. The need for being able to adapt to the scene you played on arose so that there was room for everything. Therefore, the drum set started taking shape. The same did jazz music and you might say that these two helped grow each other in this time period.
But merging numerous rhytmical instruments into one single instrument was not solely a practical measure.
The Drum Set Had a Major Musical Impact
It had a major musical impact that the rhytmic elements all came from one single person. For the first time ever, the music's rhytmical backbone came from one single individual - the drummer. This is the first time we can talk about a rhytmic anchor or center in the band and this had an enormous impact on the evolution of the rhytmical music.
Edward "Dee Dee" Chandler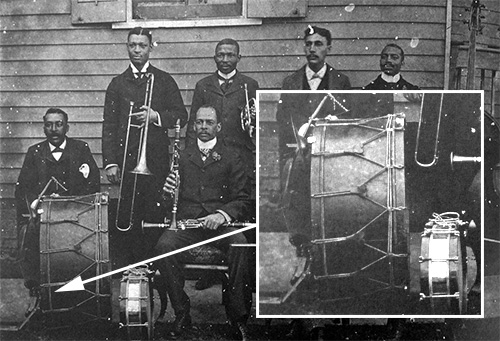 If you are to talk about a single person who played a major role in the history of the drum set, it must be Edward "Dee Dee" Chandler. He played during the very early years of jazz music. In 1894, he invented a pedal made of wood that made it possible for him to play the bass drum and the snare drum simultaneously. (You can read more about Edward Chandler here).
In New Orleans, they called this new way of playing "double drumming". It was not a pedal like the ones we know today but a beater that was hanging down that you could control using the pedal. (It was first in 1908 that William F. Ludwig's brother-in-law saw a market for the mass production of bass drum pedals. In 1910, the company Ludwig & Ludwig was founded with the goal of answering this demand).
At this time, the hihat had yet to be invented. Actually, it is first in 1938 that you hear about such an invention. Before this time, the pulse was marked by press-rolls on the snare drum while open/close rhythms were played by using splash cymbals controlled by two hands.
The first "real" hihat with a built-in spring - also called a "low-boy" - was sold as a cool new addition to the established bass drum/snare drum setup for New Orleans drummers. This low-boy was placed directly under the snare drum and the spring made it possible to imitate the rhythmic open/close figure with one hand (and one foot) usually played by splash cymbals.
The Drum Set Today
From here, the drum set evolved steadily through the years until it reached what we know it as today, a standard drum set. This means a bass drum, a snare drum, 1-2 tom-toms, a floor tom, a hihat, a ride cymbal, and a crash cymbal.
Want to Know More?