What Is a Crash Cymbal?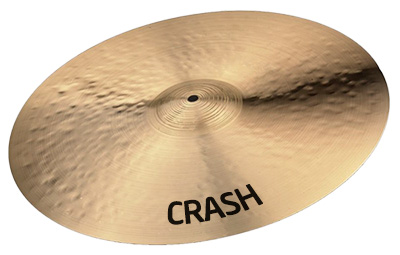 A drum set is usually equipped with various kinds of cymbals. Among these are crash cymbals. In this article, we take a look at different kinds of crash cymbals and what they are used for.
What Is a Crash Cymbal Used for?
Crash cymbals are used in most kinds of rhytmic music. They are typically used for accenting different parts in the music. More precisely, they may accent the start of a verse or the start of a chorus. Crash cymbals are also often used for instrumental accents in the music. This can be e.g. a horn riff er another kind of rhytmic detail that needs emphasis.
What Does a Crash Cymbal Sound like?
A crash cymbal has an explosive sound. When you hit the cymbal, it opens up quickly and quickly fades away again. Crash cymbals ring with a very complex tone register and they are full of over tones. Because of this, they can (almost) always be heard no matter how loud the other instruments are.
Hear Different Kinds of Crash Cymbals
By listening to different kinds of crash cymbals here, you can learn more about how the cymbals' sound vary from model to model. You also get a view into how processing, size, and more affect the sound of the different models.
The Crash Cymbal In Combination With...
Most often when making accents with a crash cymabl, you use it along with the bass drum. This simply gives the accent more punch and depth. However, you can also use the crash cymbal without the bass drum and this can give a more airy effect. You can also use it with the snare drum if you want a quick and more aggressive accent for a horn riff.
The Crash Cymbal As a Ride
In certain situations, a crash cymbal can also be used as a ride. If you play with low volume, a crash cymbal can runction really well as a thinner, and perhaps more full-bodied, ride cymbal.
It can also be on the opposite end of the spectrum if you play rock music. Here, a chorus can easily be played with 4th on a crash cymbal in order to create an aggressive feeling in the music. There are numerous possibilities and there really is no right or wrong when it comes to crash cymbals.
Different Kinds of Crash Cymbals
A crash cymbal can have a diameter ranging from 13 to 22 inches. If the diameter is lower than 13 inches, we call them splash cymbals. With such a wide range of sizes, there is a vast difference in the tone and uses of the various cymbals. Small crashes typically have a bright and short sound while bigger cymbals ring for a longer time and have a deeper tone.
Furthermore, crashes have a bunch of different designations. They can be light, thin, medium, or heavy. These are all descriptions of the cymbal's thickness which is directly tied to the cymbal's weight. The thicker and heavier a cymbal is, the longer and higher (pitch wise) it will ring. On the other hand, thinner crashes are more quiet and have a deeper tone. These comparisons are of two theoretically identical cymbals and are therefore so be seen as guidelines and not as rules set in stone.
More information
You can read more about the anatomy of a cymbal in this article.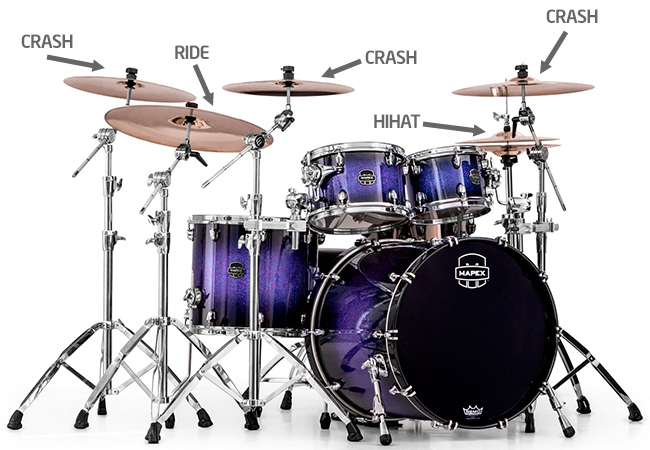 Would You Like a €15 Gift Card For Your Next Cymbal?
If you sign up for our newsletter, we will send you a 15€ gift card in your inbox right away.